Visit the Art Weekend on June 4, 5 and 6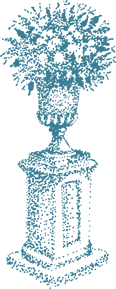 THE TEA GARDEN
For more than 35 years there has been a beautiful garden, hidden behind one of the fortifications of Weesp. It is called 'De Theetuin'( the Tea Garden). It is a small paradise, well known amongst the real garden lovers. This garden is concealed by more than 60 years old beech hedges and you really have to go behind these to discover the wealth of flowers.
Spring flowering bulbs and perennials
The garden is well-known because of the beautiful plant combinations, designed by Jacqueline van der Kloet. Her  mixtures of perennials, shrubs and especially spring flowering bulbs make sure that the garden looks different every other couple of weeks. This garden is at its best in spring, when thousands of bulbs start to flower, ranging from snow drops to late flowering tulips. But also in later months the garden is full of surprises. The focus then is on perennials and ornamental grasses. Less abundant and less colorful than in spring, but still inspiring due to the huge diversity in textures. A lot of the plants attract bees and butterflies so it is always busy in the summer months. In autumn gradually a lovely quietness takes over. The garden prepares for winter but still has a nice, architectural look.
Design
The design of the garden is clear and simple: in the middle there is an oval pond, surrounded by a huge Arbor Vitae hedge. It is the quiet and impressive centre of the garden which also blocks the view: you cannot oversee the whole garden at once which makes it much more interesting and exciting. You have to find your way on a meandering pathway that leads you along all the borders, small and large. That's the best way to discover this garden.
LATEST NEWS
Art Weekend in June
Several artist (14) come to our garden to show their art.There is a big variety. Come and be surprised on June 4, 5 or 6. Free entrance.
>> read more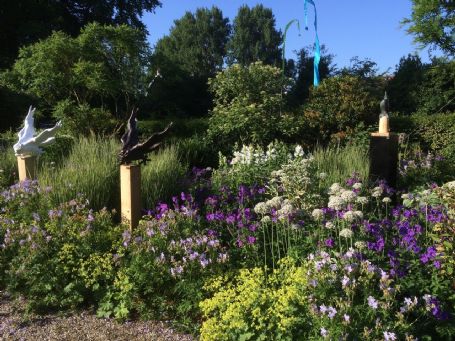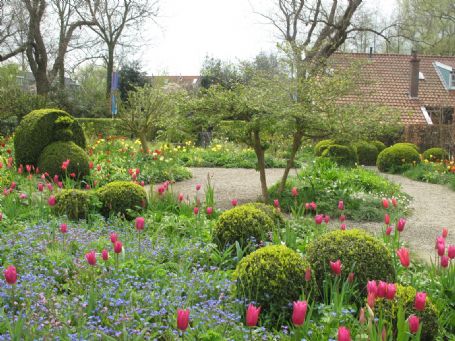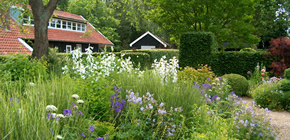 The Model Garden
The model garden is a very important part of the Tea Garden. Here the visitors will be surprised and inspired. Special perennials, rare bulbs and uncommon summer annuals have been gathered in exciting combinations. The business card of Jacqueline van der Kloet.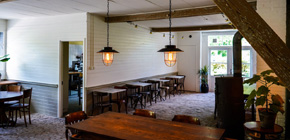 The Tea House / Bar Blauw
The building which now houses the breakfast en lunch bar was built in 1875 to store munitions. Bar Blauw is open Thursday, Friday and Saturday from 09:00 to 18:00. They also arrange rental of the Tea House. www.barblauw.nl.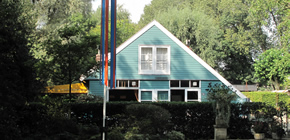 Inspirational Weekends
The Tea Garden is situated on the Bastion Bakkerschans which dates from 1674. Two times a year inspirational weekends are organized here: the Bulb Festival in April, an Art Weekend during Whitsun.